GR500-EP Industrial Ozone Generator. V4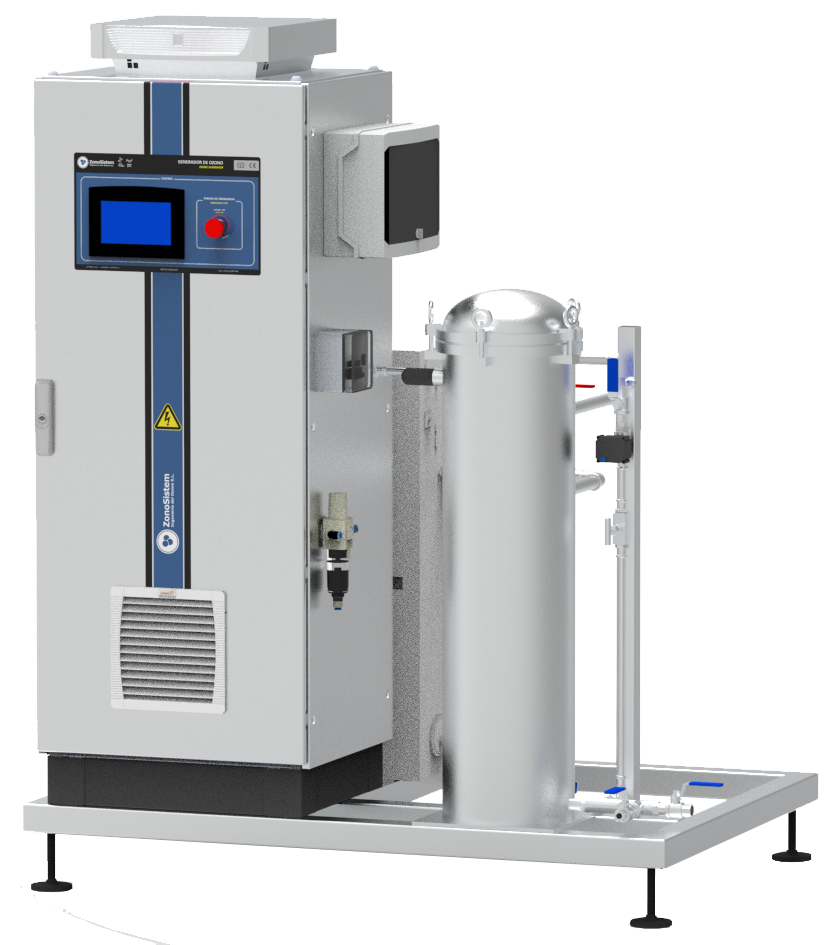 ---
---
Internal Reference:
FABGR.0013
GR500-EP Industrial Ozone Generator. V4
Industrial Ozone Generator, cooled by water, to work from oxygen LOX or PSA. With PLC control with touch screen. Capacity to produce 500gO3/h of ozone, at a concentration of 148g/Nm3. 400V, 3P+N, 50Hz, 8.5kW.
Robust, durable and highly efficient industrial ozone generator, designed and manufactured in Spain. This ozone generator needs an oxygen supply to produce ozone, either from a liquid oxygen tank (LOX) or from an oxygen concentrator (PSA). It achieves high concentrations of ozone with a really efficient electricity consumption rate. It also includes a powerful control unit: PLC, touch screen, data logging and remote access. Made with high quality components.
Highly Recommended
2 years warranty (expandable if you have a maintenance contract)
Manufacturing in 30-40 days
Industrial Ozone Generator
Technical specifications 
What is it used for?
This powerful ozone generation system is mainly used in water disinfection and purification treatments. It is frequently used in wastewater treatment plants (WWTP), drinking water treatment plants (DWTP), agricultural irrigation lines, fish farms, aquariums, lake and water reservoir recovery, swimming pools, etc. It is especially indicated for those industries that already have an oxygen line installed. 


Product Details
What´s included

| | |
| --- | --- |
| Ozone Generation system | 500 gO3/h ferrule with borosilicate dielectric. Cooled by Water or Glycol. |
| Oxygen concentrator | Oxygen must be supplied by the customer, from LOX or PSA. The kit does not include PSA. |
| Refrigeration | Cooling water must be supplied by the customer. The equipment does not include a chiller. You can purchase it optionally. See Accessories. |
| Control | By PLC V700, 7". Recipe manager, weekly programmer, alarm and maintenance manager. |
| Communication | Wired remote ON, Status relays (Initiated, Generating, Fault), Allows ModBus communication. Optional VPN Router for Remote Access with Full Control. |
| Sensors | Ozone Amps, Oxygen Pressure and Flow, Refrigeration Flow and Temperature, Ozone Leaks, Door Opening. |
| Technical Valves | Motorized oxygen inlet valve, Manual reducer with inlet filter, Manually regulated oxygen flowmeter, Motorized outlet ozone valve. Proportional valve for automatic flow adjustment Optional. |
| Included in the equipment | Enfriadora |
| Included in the packaging | Dielectric spare parts + User's Manual |
Technical features

Ozone Production

500 gO3/h

Ozone concentration

Maximum 200 gO3/Nm3.
Optimum 148 gO3/Nm3

Air flow

60 lpm

Caudal de Refrigereación

50 lpm at 1 bar at 15-22ºC is needed

Power supply

400V, 3P+N, 50Hz

Electric Power

Ozone Generator = 8.5 KW

Gas connection

IN Ø10 mm tube / OUT Thread 1/2 "Female + with Connector for 10mm Ext.

Conexión Refrigeración IN/OUT

IN/OUT Tube 16 mm outside diameter

Dimensions

600 x 1300 x 1800 mm (Width x Depth x Height)

Packed size

Consult

Weight

Consult
Working Conditions

| | |
| --- | --- |
| Humidity | <85%. |
| Room temperature | 5 - 35ºC. |
| Source gas | The team needs an oxygen supply of either LOX or PSA. |
| Gas quality | 95-99% oxygen purity, drying at -40ºC Dew Point. |
| Working pressure | 0.7 Bar |
| Quality of the water that is refrigerated | Drinking water quality without chlorides in case of open circuit. Osmosis water + glycol in the case of a closed circuit. |
| Others | It admits venturi at the outlet. |
Room fittings
The room must be well ventilated, and provide an extraction system in case of leaks. Install sign with safety warnings.
Additional Information

| | |
| --- | --- |
| Made by | ZonoSistem |
| Made in | Spain |
| Sold from | 2014 |
| Last revision | 2023 |
| Certificates | CE, BIOCIDA PT2, PT4, PT5, PT11 |
| Warranty | 2 years extendable indefinitely, with maintenance contract |
| UFI number | G000-W09P-Y00M-TV8V |
Functioning
This ozone generator equipment includes a touch screen to easily program different treatments throughout the day using a recipe planner. When the equipment receives a running order it opens a motorized inlet valve allowing oxygen to enter. This flow of oxygen is conducted to the generation part, where the corona discharge is applied and the oxygen is transformed into ozone. With the oxygen flow meter you can regulate the desired flow. 
Included documentation
Safety manual


User manual, installation and commissioning.


Maintenance manual.


Declaration of Conformity.


Certificate of guarantee


Compliance with biocidal regulations.


Our Quality Test results.

Technology
This GR ozone generator uses high frequency corona discharge technology with ceramic dielectric.


We comply with biocidal regulations and ISO certificates.
Alternative products: