ZonoSistem attended the technical conference on the zebra mussel to present its experience and propose solutions with ozone
The General Irrigation Board of Aragon and Catalonia, an entity that manages and brings together some 120 irrigation communities in the area. Organize this technical event on the zebra mussel, with universities, veterinarians and companies in the sector, because they receive an average of three calls a day from their irrigation communities, requesting information on the problem of this invasive species.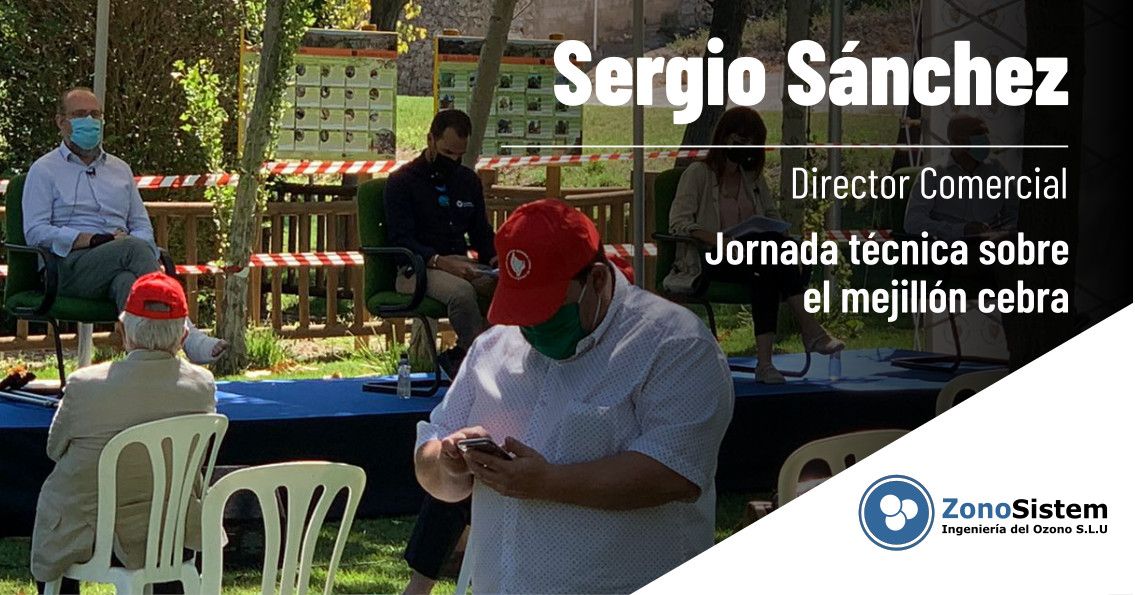 Sergio Sánchez during the presentation of ozone technology in irrigation ponds.
Our Commercial Director Sergio Sánchez, accompanied by our General Director Álvaro Valenzuela, traveled to Huesca to defend the qualities of Ozone against this problem that is increasing, above all, to get in touch with the different problems that are being found in this great community of irrigators in the north of Spain.

The scientists spoke first, explaining the studies they had carried out and their conclusions, then the companies continued to offer their solutions. Some companies sell filters, others sell chemical products, and we are ZonoSistem, which manufactures ozone generators, with experience in rafts in the Huesca area with zebra mussels.

After a first contact with the managers and staff of the irrigation communities, it is clear that each pond has different problems due to the characteristics of each one, especially that the mussel is introduced through all the ducts, some have problems in the pipes, the filters, some clean the pond once a year, if they have open channels they clog them, very different water flows. In short, each case affects the facilities by deteriorating and we will study the different ways to tackle the problem in each case.

We are coordinating with our local distributor Psp Water, which has about 60 ponds with their aeration systems, to study how to inject ozone into each of these aeration systems, and to analyze the most effective way to control this zebra mussel problem. .

From ZonoSistem we value very positively the technical seminar on the zebra mussel, and with the support of the prevention plan published by the Ministry of Agriculture, we found good bases to offer our experience in water treatments with ozone, and solutions for the control of this invasive species without using chemicals.